Rhodolite Garnet
Rhodolite is a variety of Pyrope that was discovered in 1882 in North Carolina, USA. It was named after the local Rhododendron flower, which it resembles in color. ​Rhodolite Garnet is defined by this purplish color.

Chrome Pyrope Graph Points
Chrome Pyrope 0.59ct.
Appears "Crimson" Red
in Transmitted Light
​
"Raspberry" Pink Rhodolite
(Tanzania 5.27ct)
© Kirk Feral 2011, All Rights Reserved. These materials may be duplicated for educational purposes only. No part of this website may be duplicated or distributed for profit, for commercial purposes, or for posting to another website without the expressed written consent of the copyright holder.
Magnetism in Gemstones
An Effective Tool and Method for Gem Identification
As with other Pyrope varieties, the Pick-up response can be relatively weak, and Rhodolites at the extreme low end of the range may only show a Drag response. The graph below shows Rhodolite graph points. Like Malaya Garnet, Rhodolite is often a mixture of Pyrope, Almandine and Spessartine. Most points fall well inside the boundaries of the Pyralpsite ternary. Point positioning also tells us that this variety of Pyrope Garnet is not just distinguished by its unique purple color (which may be influenced by trace chemistry), but also by its major composition, which tends to involve more Spessartine (manganese) and less Almandine (iron) than what is seen in Standard Pyrope. The range of composition also indicates that most Rhodolites are closer to the pure Pyrope end member than are Standard Pyropes, meaning Rhodolites have higher magnesium content than Standard Pyropes.
Rhodolite color is purplish red to reddish purple or pinkish purple. Color intensity can vary from light (below left) to dark (below right). Purple color is the result of the ratio of chromium/vanadium (pink component) to iron and manganese (blue component), with iron content lower than in Standard Pyrope.
Gems that are reddish purple (2 photos above) with a predominant hue of purple tend to show color shift to pink or red when viewed under incandescent light. Rhodolites that are purplish red (2 photos below) have a predominant hue of red or pink in daylight. Gem dealers use "fruity" names to refer to these Rhodolites, such as "Cranberry" Rhodolite, "Raspberry" Rhodlite, and "Cherry" Rhodolite.
"Cranberry" Red Rhodolite
(Sri Lanka 3.83ct)
​​The Uvarovite/Knorringite content, plus some Grossular content, represent multiple component species within the Chrome Pyrope mix. These additional end members place Chrome Pyrope graph points above the Pyralspite ternary toward the Ugrandite ternary so that the points are positioned between the two, as seen below. The points move upward as higher chromium content raises the gem density and refractive index. The upward positioning of Chrome Pyrope points could also be in part be due to the lower magnetic susceptibility of chromium as it replaces iron, moving the points to the left and away from the Pyrope-Almandine line.

Chrome Pyrope
​​Chrome Pyropes, which include Anthill Garnets, have even lower magnetic susceptibilities than Pastel Pyropes, and these gems also show a Drag response rather than a Pick-up response (although very small gems pick up). The refractive index range is very similar to that of Pastel Pyrope. Chrome Pyropes typically have a deeper red color than Standard Pyrope or red Pastel Pyrope due to high chromium content derived from Uvarovite/Knorringite. The coloring agents chromium and iron are the same ones that give Ruby its blood-red color. Chromium content has been reported to be in the range of 4% - 8% chromium oxide for most gem-grade Chrome Pyrope. This is considerably more chromium than what is found in other Garnets, and is likely responsible for a small percentage of the total magnetic susceptibility.
3 Chrome Pyropes (center gem is 0.97ct)
Some key identification parameters for Chrome Pyrope are:
1) Vivid red, orange-red or purple-red color in transmitted light
2) Chromium absorption spectrum visible with a spectroscope
2) Low refractive index range: RI 1.733- 1.746
3) Drag response due to a low magnetic susceptibility range: SI 4.55 – 10 X 10(-4)
Key identification parameters for Rhodolite are (based on 50 test samples):
1) Reddish purple or purplish red daylight color
2) Refractive index range: RI 1.739- 1.766
3) Pick-up response due to a moderate magnetic susceptibility range: SI 10.6 – 18.9 X 10(-4)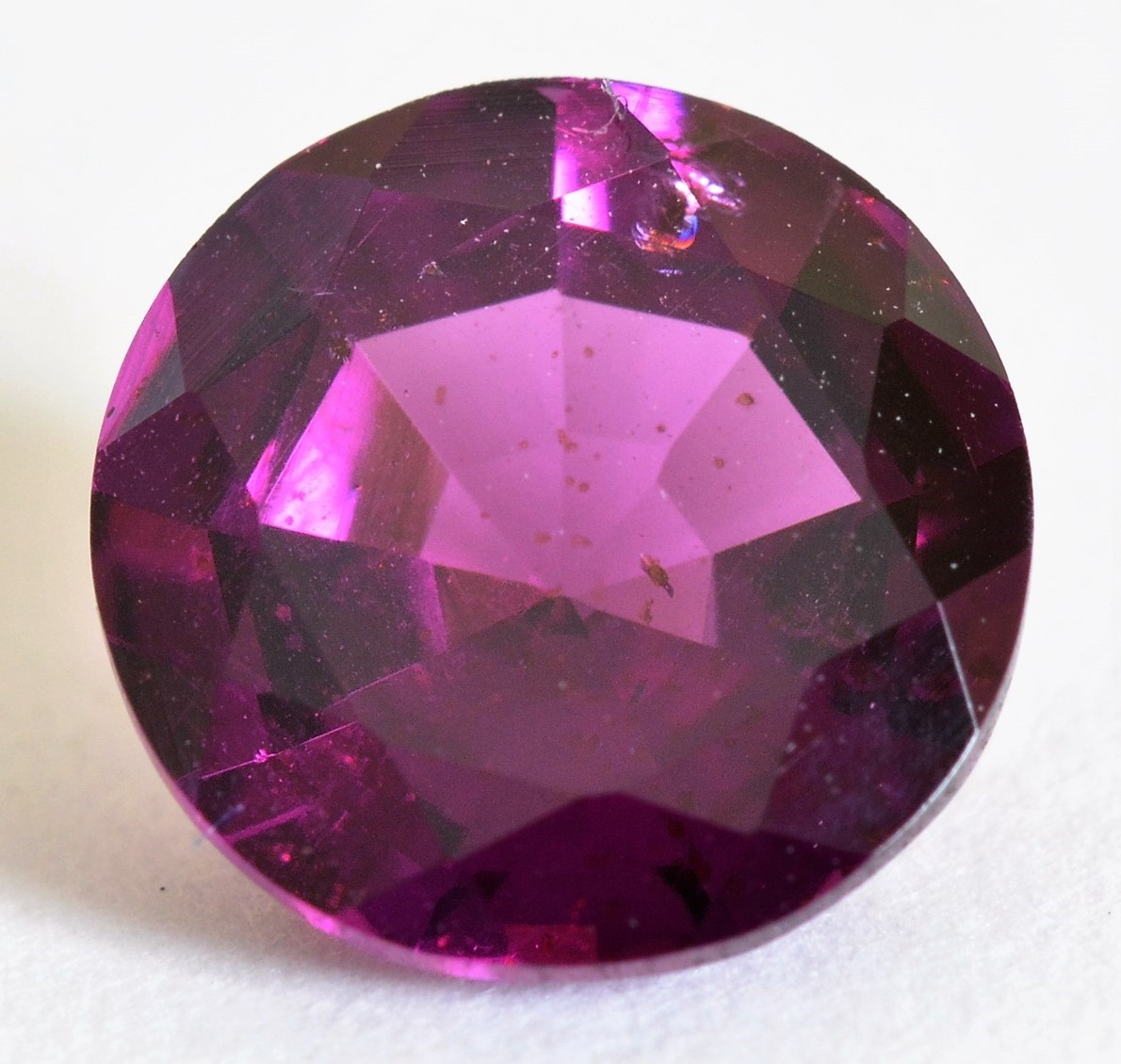 Rhodolite & Chrome Pyrope