Magnetism in Gemstones
An Effective Tool and Method for Gem Identification
Both shapes of Chrysoprase shown here, faceted and domed cabochon, show strong magnetic responses when floated.
A Large Garnet (11.5ct) Drags
A Very Small Peridot (0.25ct) Picks Up
Gem Size: When using the floatation method, gems of very small size may respond less obviously than larger ones because of the small surface area subject to the magnetic field. This is most noticeable in tiny (melee) gems that are weakly magnetic, as they must overcome inertia and slight friction of the gem raft moving across water in order to show a response (see photo below).
© Kirk Feral 2009, All Rights Reserved. These materials may be duplicated for educational purposes only. No part of this website may be duplicated or distributed for profit, for commercial purposes, or for posting to another website, without the expressed written consent of the copyright holder.
The five highly magnetic transparent primary gems other than Garnet that show a drag response can also show a Pick-up response when those gems are exceptionally small and light. Approximate cut-off points between Drag and Pick-up responses for these gems are: Peridot and pink CZ may pick up under 0.5ct.; Indicolite, Verdelite green Tourmaline and manganous yellow Tourmaline may pick up under .35ct.
When very small, Peridot might be confused with Demantoid Garnet, as both green stones pick up. But only Demantoid jumps to the magnet.
Factors that Affect Magnetic Responses
Gem Shape and Cut: Whether we are using the Floatation method or Direct method, magnetic response is somewhat affected by a gem's shape and cut. The larger the flat surface area of the gem when held parallel to the magnet, the better the magnet is able to pull the gem. Cabochons with dome tops don't pull quite as easily as faceted gems, and pear cuts don't pull quite as well as square cuts with larger facet tables and surface areas. But all exposed gem surfaces are subject to the magnetic field of a magnet. In most cases, we find that variations in gem shape and cut don't significantly alter the responses we see with a magnetic wand.
Gem Weight: Gem weight is irrelevant when we use the floatation method, but Pick-up and Drag responses are weight-dependent. This is by far the most significant factor that affects Direct magnetic responses. Larger Garnet gems and faceting rough may be too heavy to pick up, but most will drag. Approximate cut-off points between Pick-up and Drag responses for Garnets are: Spessartine over 4-5ct, Almandine and Andradite over 2-3ct, Pyrope, Rhodolite and Malaya over 1-2ct, Chrome Pyrope over 1ct, Mali Garnet over 0.5ct.
When a magnet is held in front of a gem that has a large flat surface area at its table facet, the gem may show magnetic attraction that is disproportionate to its actual magnetic susceptibility. The large green Beryl with a very large table facet pictured below shows a moderate magnetic response when the floatation method is used. However, its actual measured susceptibility is weak at only 22 X 10(-6) SI.
Testing a Small Gem with a Small Surface Area
Testing a Large Gem with a Large Table Facet
We must be careful not to identify green Tourmaline or Peridot gems as Demantoid Garnets simply based on the Pick-up responses of these gems when they are very small (less than a third of a carat).


The crown of a gem with its flat table facet will pick up or drag more readily than the tapered end of the pavilion side with its small facets, and an un-faceted rough with irregular surfaces will pick up or drag significantly less readily than a cut gem with a smooth flat surface. However, when floatation is used, the pavilion side of cut stones and the irregular surfaces of rough stones respond to a magnet nearly to the same degree as the crown side of cut stones.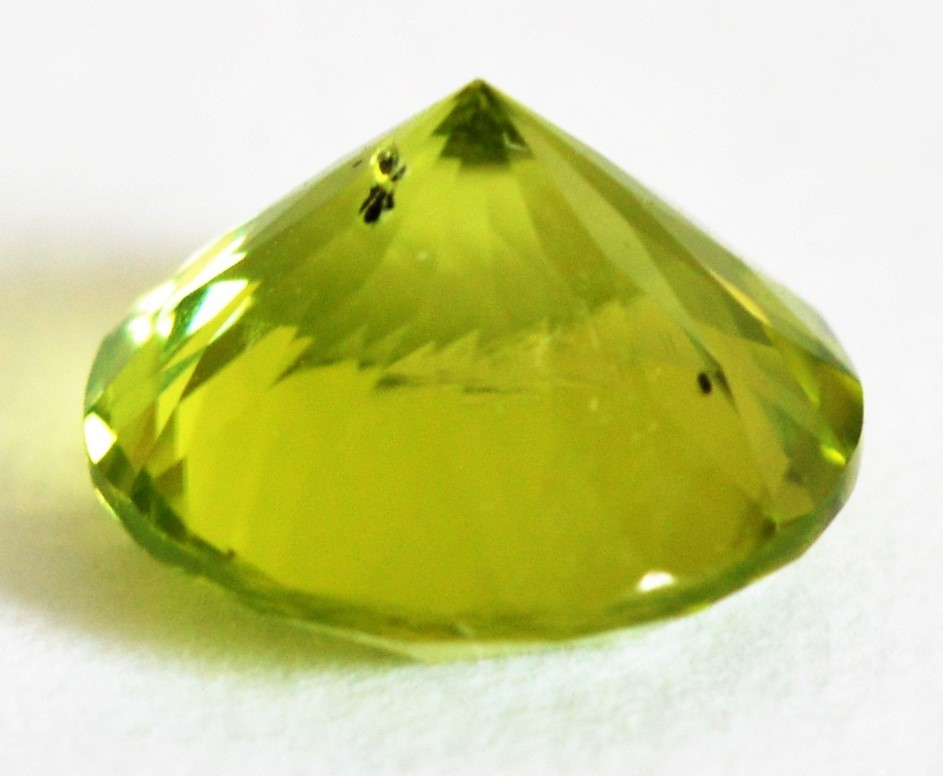 Pavilion of a Faceted Peridot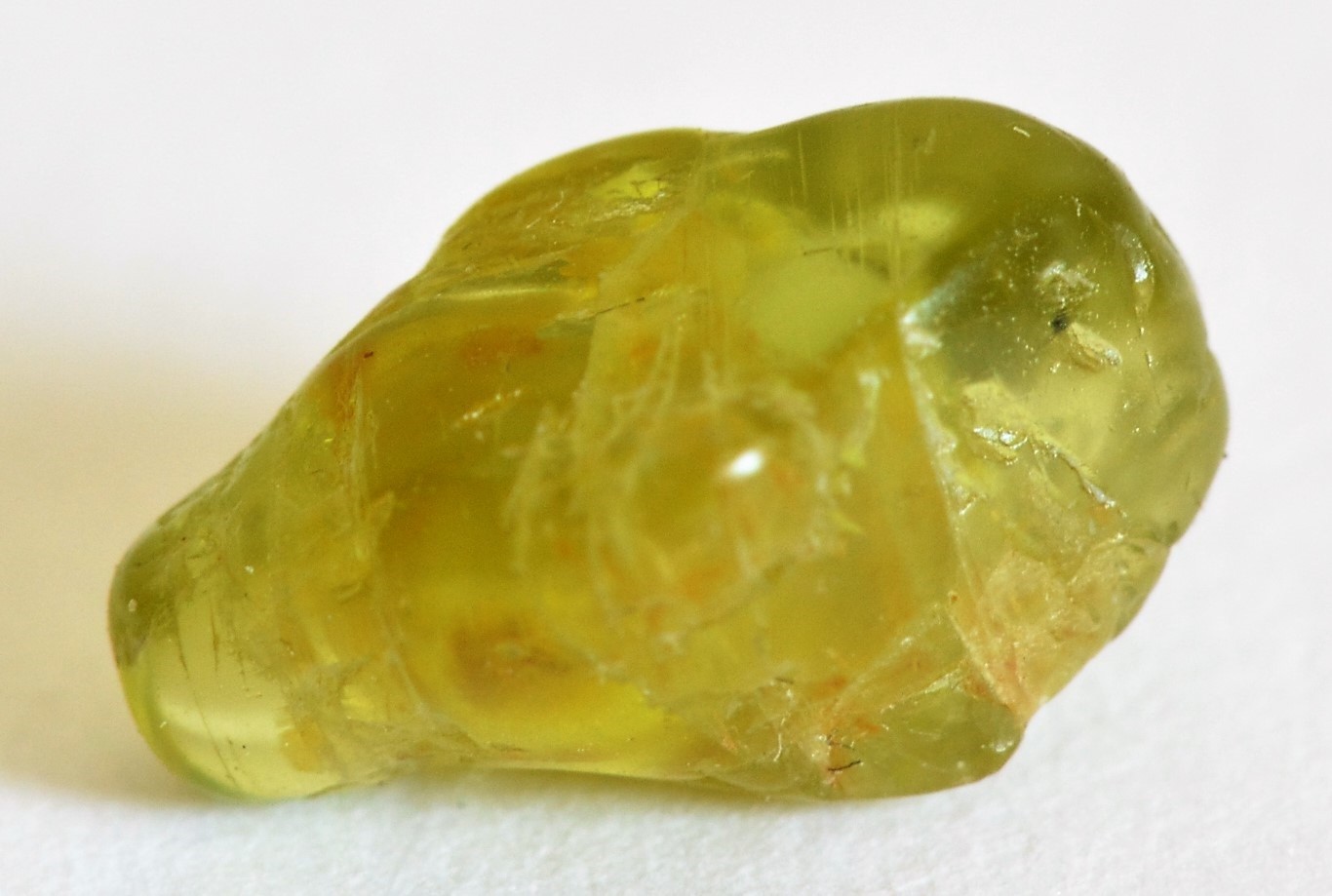 Such variations in magnetic response between gems of different shapes, sizes, cuts and surface areas are not significant enough to jeapordize the overall reliability of magnetic testing, as we use the observed responses only as approximate indicators of magnetic susceptibility. Differences between Moderate and Weak responses, or Moderate and Strong responses, may be occasionally obscured during Floataion, as well as differences between Drag and Pick-up responses during Direct testing, but these variations are rarely great enough to hinder our ability to make clear distinctions between Diamagnetic, Weak, Strong and Direct responses.